Bag a Black Friday Attollo Intranet Bargain – for your business
November 22, 2018
So you've spent the morning browsing the net, finger poised to bag a Black Friday bargain.
But have you thought about treating your business?
We've jumped on the commercial Band Wagon to offer you an exclusive deal that will excite you as much as that cut price Oculus Go, Microsoft Surface or even that fruit based technology product.
What do you need to do? Inquire and book a demo via the website quoting BLACKFRIDAY and then purchase Attollo Intranet within three months of today's date – and we'll offer you:
A whopping 20% discount on the Attollo Intranet product
3 months free Support
3 days of free Professional Services
…So step away from the Christmas Shopping – and focus on delivering an exciting 2019 for your internal communications with Attollo Intranet.
Let us give you a demo of Attollo Intranet today! T&Cs apply.
---
Fancy a quick demo?
Why not take a closer look at Attollo and how it can power your organisation today! Book a FREE demo and let us show you why Attollo is the perfect starting point for your Digital Workplace.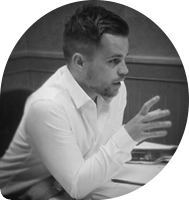 by
---
This is Attollo, a cost effective, out-of-the-box SharePoint intranet designed to help your business get things off the ground in an instant.
---