Keysight Technologies Digital Workplace, Pulse, powered by Attollo Intranet has been shortlisted for two prestigious awards.
Ragan's Employee Communications Awards celebrates those who create and cultivate best practices across internal and external communications, public relations and marketing businesses. 
Nominated for the campaign it ran with Keysight Technologies, Pulse features in two categories:  
'Launch or Relaunch' – Intranet Collaboration and Innovation  
'Best Overall Intranet' – Grand Prize 
Keysight Technologies, a global leader in transforming electronic measurements through innovations in wireless, modular and software solutions, approached Attollo for help in finding a way to efficiently connect its 15,000 employees across 32 offices globally.
With increasing demand from technology companies, students and engineers wanting to sign up, the company identified an urgent need for a modern intranet as it had no centralised place for staff to find important information, a lack of internal communications and employees working across a siloed site, which posed major problems in the transparency of information. 
Keysight's intranet Pulse was built using Attollo Intranet for a fully responsive experience that works seamlessly across all devices.
Implementing Attollo Intranet has transformed the working lives of its users. With a standardised template for each department and simple navigation. Keysight can now onboard other departments at their own pace quickly and without having to embark on a design process.  Employee engagement and productivity are considerably higher. 
Sam Dolan, Attollo's creative director, said: "We are thrilled to be shortlisted for both awards as we have seen how engaged Keysight's workforce has become since our implementation, and so the nominations are truly deserved." 
"It's the first time that Keysight has been able to publish its own news, updates, content and information with ease and efficiency. Now all in one place it makes for a much better-connected company, despite its staff being located all over the world."
Pulse, powered by Attollo Intranet, goes up against a worthy group. Including BNY Mellon, Lidl Romania and SMS Assist for the 'Launch or Relaunch' prize, and SMS Assist, STO Building Group and University Health for the 'Best overall intranet' silverware.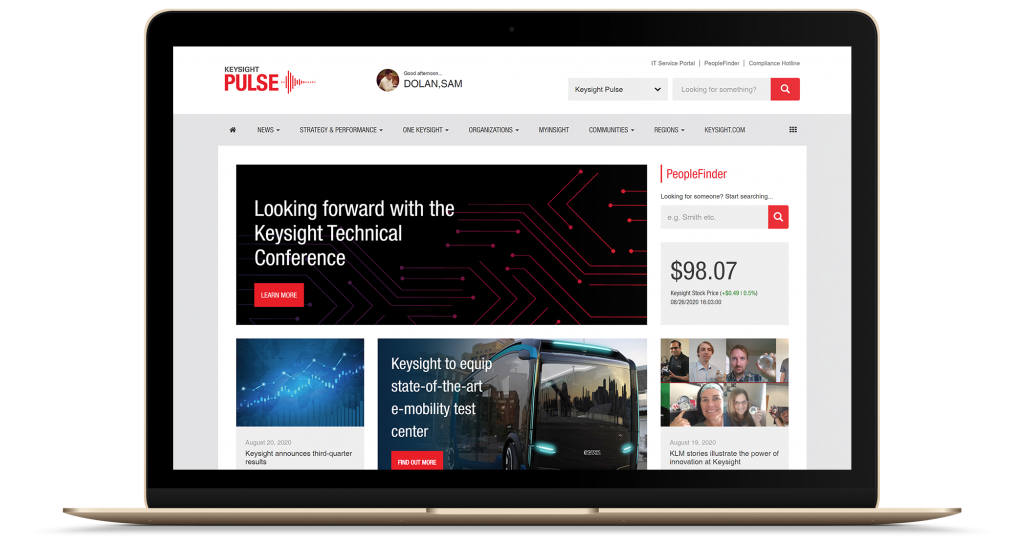 Award winners will be announced towards the end of March.
For more information, contact Rebecca Hill, Digital Marketing Manager at Attollo Intranet on rebecca.hill@thisisattollo.com.