Top 10 Amazing Attollo Intranet Features:
It's All About Attollo Intranet
The team at Attollo Intranet have delivered 100's of Intranets around the world and have over 20 years' experience working on intranet solutions covering; collaboration, business productivity, team sites, department sites, document management, governance information and much more. Attollo 'Core' is an out of the box SharePoint intranet designed to help your business get things off the ground – in an instant. Attollo Intranet:
• Delivers a fully branded SharePoint intranet with popular sections that most businesses use, providing a solid building block for future growth and any additional bespoke development.
• Offers an exceptional user experience that has been designed to drive user adoption, deliver a solution that users will continuously use, adopt and crucially preserving your brand identity.
• Can also offer ongoing Professional Services such as consulting, development, product training and much more to help support to promote customer success and with a customer-centric roadmap of new features, we ensure that your digital workplace continues to meet your organisational needs.
• Allows you to confidently invest in a digital workplace solution while minimising your intranet project risk, allowing you to deliver fantastic return on investment. Attollo Intranet will grow alongside your organisation & continuously offer value over time.
We've handpicked our current top 10 Attollo Intranet features that we feel could help your business:
1. Brand Alignment
Ability to fully brand align Attollo in order to meet your corporate branding. The purchase cost also includes full brand-alignment to make the colours, fonts and logos look like your business. We work with you to ensure you are totally satisfied that your "theme" matches your brand and identity.
---
2. Responsive Design
Attollo Intranet not only offers full cross-browser compatibility, but it is also fully responsive and works across mobile, tablet and desktop devices.
---
3. Home Page
The Attollo homepage lets you push essential information to internal users, including through featured content along with a news feed to keep updates fresh and relevant. A powerful news section pushes the latest news directly to the homepage. With featured content highlighting your most important content. Customisable to show information relevant to your business. Attollo Intranet has been developed with the user experience at its very core. Attollo has been developed and refined to automate, consolidate and improve efficiency because we understand that having an intranet that is not user-friendly will hold you back from achieving your goals. Attollo is a user-friendly intranet designed to help you add long-term value by increasing productivity and collaboration in your company.

Attollo's user-friendly design benefits from:
Fast and capable search functions.
Navigation that is easy to use and understand.
A fully brand-aligned experience bringing together the strong external branding so that internally the brand reflects the organisation's culture. Providing a strong internal brand that goes beyond the external image to shape the entire organisation.
Intuitive layouts and functionality.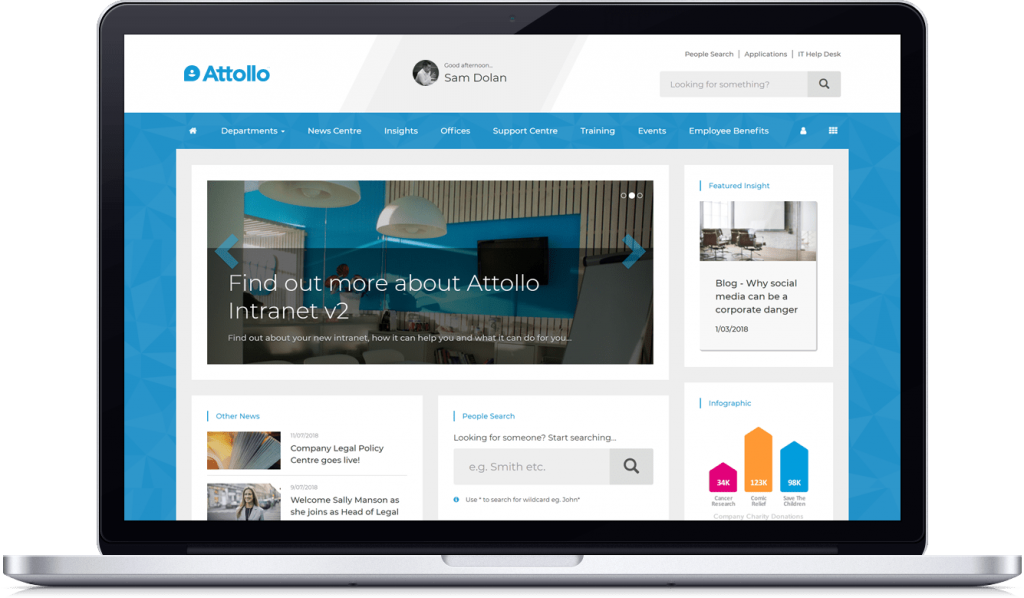 At Attollo our aim has been to create a user-friendly digital workplace that shapes and influences a one company culture, celebrating the positives aspects and encouraging employees to feel proud about where they work and what they do, while crucially linking your business sectors under one channel of communication.
---
4. Department Sites
Every business has a variety of departments or business units. This area gives those teams the ability to inform the rest of the business who they are, what they do and publish important documentation such as 'Policies and Procedures' and other important content. Other features can include department news, calendars, videos, quick links ad useful documents.
---
5. News Centre
News story creation is a main feature of Attollo Intranet and they are all housed within the News Centre, tagging can be used to differentiate between secondary and primary news stories. Primary and secondary news stories can be displayed across the site either on the news page or for example within department sites for department related news.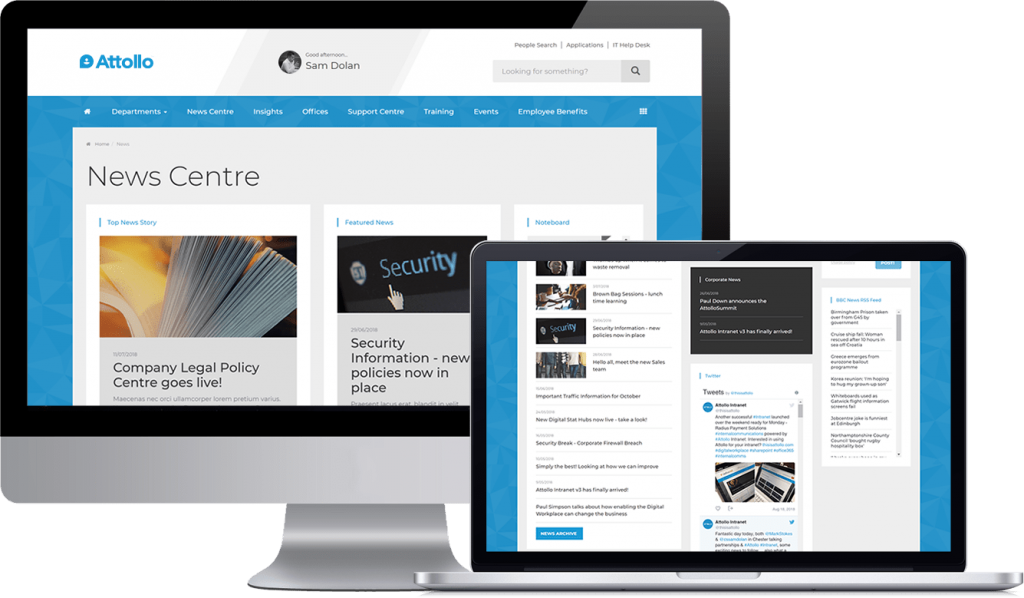 ---
6. It Support Site
Having issues? Let people know instantly. Every organisation has experienced IT issues in some capacity! But not all organisations let their employees know so that they are not calling the Help Desk, or constantly logging calls.
Easy to understand colour system. Using various colours, you can let users know what type of issue your organisation is having. With the added ability to add notes with dates, users can feel issues are in hand soon to be resolved.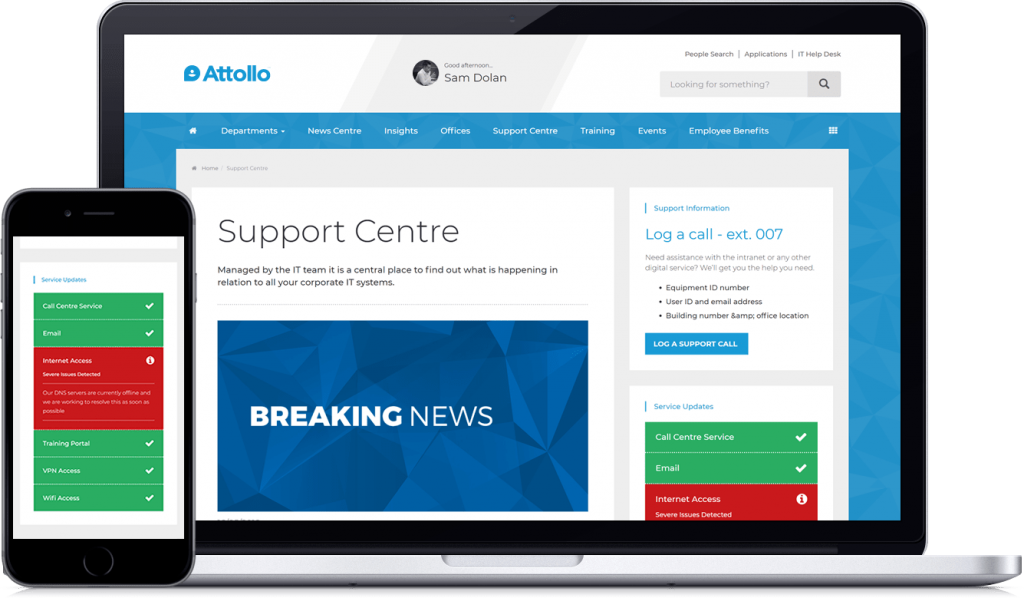 ---
7. People Finder
Attollo can help you find the right people in the right departments with its Staff Directory and search. Keep all contact details at your fingertips and save endless hunting for numbers.
Easily put a face to a name! Find out more about colleague's experience and skillsets by link quickly into their personal profiles to find out contact information and more.
---
8. Insights / Blogs
Share your thoughts with Attollo Insights. From charity events to Industry Insights, an insight is an excellent way to engage staff, companywide.
Engage your staff by sharing your thoughts and views to the rest of the business and encourage replies and conversations. Attollo Insights is a great tool to share your corporate experiences to everyone. Individual, team, department or special interest focused.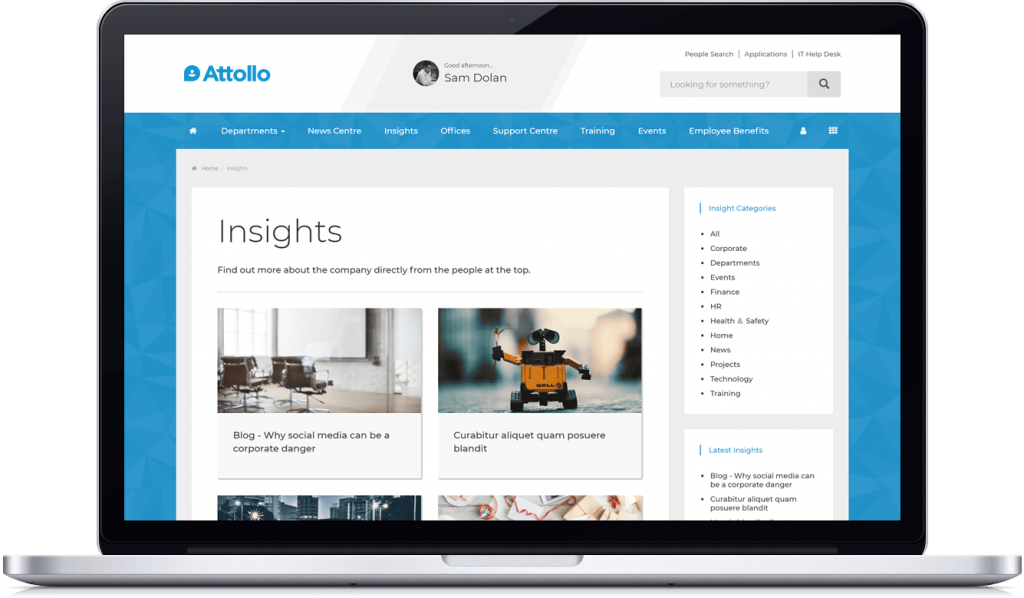 ---
9. Popular Documents
Popular documents widgets can be added across the site to enable your workforce to find relevant and up to date information. For example, the HR Department may have Holiday Request Forms.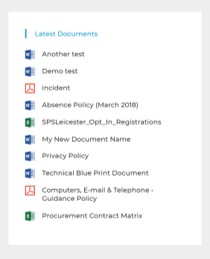 ---
10. Social Enterprise Tools/Social Interactions
Social Enterprise tools help you improve engagement with everyone in your organisation. Enhance communication to build a culture of transparency, keeping everyone from leadership to first-line workers informed, aligned, and moving forward. Build communities of interest to bring people together around shared topics, interests, or areas of practice. Gather ideas and feedback from across your network of colleagues to build on the work of others and achieve better outcomes.

---
If you have questions, feel free to contact Darren Perrins at your convenience by email at darren.perrins@thisisattollo.com or by phone at +44 (0)1952 288 365 Or if you are eager to have a look at this product yourself in more detail, book a demo in and explore even more great features. 
Top 10 Amazing Attollo Intranet Features: